Bean is currently 13.5 months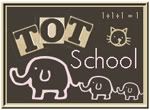 Bean had 3 tot trays this week
Tray one held 3 books-
Oooh Oooh Moo
was Bean's favorite this week. It is a sweet, simple book that features pictures of animals and the sounds they make. She attempted to say "moooo" every time we got to the cow page. She also really enjoyed the sensory aspect of the touch and feel book.
Tray two was a small box that held toy bugs along with a little net, all of which came from our
bug sensory
.
Bean liked opening and closing the box and taking the bugs in and out. I also held the net for her so that she could put the bugs into it and then dump them all back out again.

Two things that Bean has enjoyed doing a lot of this week are dancing...
and coloring!